COLLET HOLDER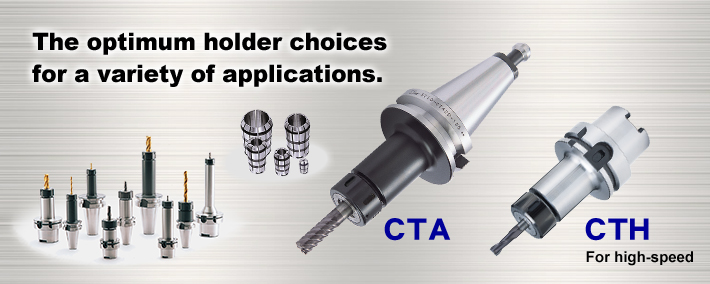 The tapered collet holder combines the necessary capabilities for high-speed, efficient machining.
Thick and highly rigid body and Nut for high accuracy
The CTA/CTH, though compact, has a thick body design.
It absorbs cutting vibration perfectly and makes stable machining possible.
Steel ball bearings are built into the nut, so the collet does not get twisted when tightened.
The nut is finished using the same process after heat treatment, thus providing high-accuracy clamping.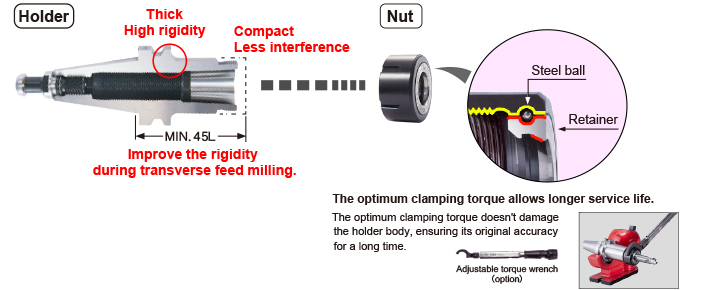 Ideal taper angle
Since the collet angle is smaller than that of typical collets, the collapsibility is also small. However, because the collet can be inserted deeper into the main body, the gripping area increases, it provides stable run-out accuracy and high gripping force and rigidity for end milling. This collet as a taper angle of 6°, the ideal angle for run-out accuracy, gripping force and rigidity.

Precision spring collet
The increased number of slits ensures the uniform tightening and high accuracy of the collet.


Pre-balanced by previously designing (CTH type)
The collet holder (CTH type) is pre-balanced by previously designing the holder to be as axisymmetrical as possible.
When used with the precision collet, it enables stable machining during high-speed machining.

Coolant-through system
The spindle-through feature can be used whether the cutting tool has oil holes or not.

Main body (Collet) 5 types

A variety of holder lengths 45L to 315L

Dimensions/ Drawing Data download
Cutting data