WORK HOLDER SYSTEM SMART GRIP



Less interference and superior accessibility!
Off line preparation provides you quick work changing!
It clamps a workpiece strongly with minimum clamping length.

Compact

Quick

High rigidity
Quick-change type
Reduce your setup/machining time and production cost
>>Details of quick-change type
Direct-mounting type
Clamping the work-piece with the short-est length from the table!
Providing wider machining area.
>>Details of Direct-mounting type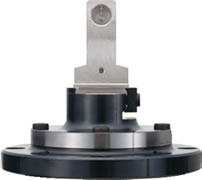 Dovetail clamping system
It clamps a workpiece strongly with minimum clamping length.
It allows strong work-piece clamping even when there is a limited clamping area when performing simple additional machining (dovetail machining) on the work-piece.
It achieves strong and stable machining during side face machining without any interference, minimal tool holder length and cutting tool projection when using a 5-axis machining center.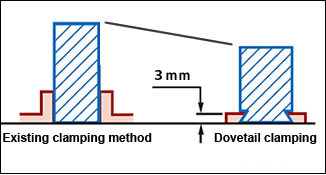 Cost savings with expensive materials.
It achieves material cost savings because the work-piece clamping area is kept to a minimum thus limiting the amount of work-piece material needed for machining.
Compatible with automatic work-piece changing.
The hydraulic clamping design allows for automated work-piece changing, and makes it possible for you to combine your machining centers with robots to create a fully-automated system.

Quick-change type
High Rigidity HSK Interface
We have adopted the world standard HSK-A type, time-proven tool holder shanks for the interface coupling between the work holder and the head.
Superior bending rigidity and positioning accuracy are achieved despite the simple method of changing holders, which makes also automation possible.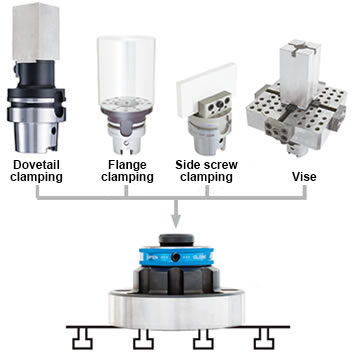 Quick workpiece changing and off-line setup.
Easy work holder changing using just a wrench. Off-line setup is possible, so you can start the next machining quickly when the workpiece is mounted to the work holder in advance.


High positioning accuracy
No alignment by experienced workers required.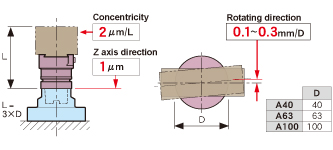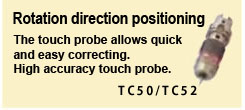 Direct-mounting type
It clamps a work-piece with the shortest length thanks to direct mounting on the table, and provides a larger machining center machining area.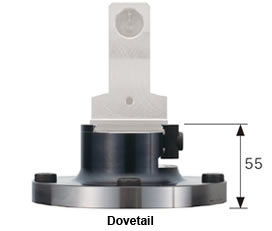 Dimensions/ Drawing Data download

In order to view documents in PDF format, Adobe Reader® is required. You can downolad the latest version of Adobe Reader® for free from the Adobe site.
Processing examples
Stable and efficient machining


Product Movie
Process integration in 3-axis machining center
Cutting Movie