ANTI-SLIPPAGE, SHRINK-FIT HOLDER SLIMLINE Z


End-mills NEVER pull out from these holders!
SLIMLINE Z allows efficient machining of tough materials thanks to its four safety configurations.
It eliminates concerns of the tool pulling out due to chattering or abrupt increases in cutting force.
Tool life extended when doing heavy duty machining.
Absolutely no worry of the tool slipping and pulling out, even if the tool experiences chattering.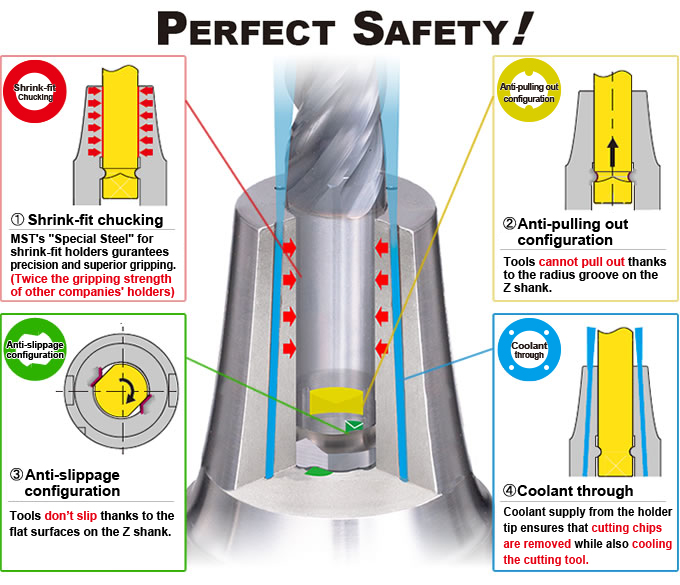 The Z shank tool is required for SLIMLINE Z. The Z shank tool is required for SLIMLINE Z. Z Shank is easy to fabricate — the open standards make it possible for anyone to fabricate block shanks.
For additional processing of Z Shanks, please contact MST Corporation. We accept machining requests for one or more shanks.
>>Contact us

They can provide a tool for SLIMLINE Z
Conventional holder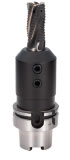 Side lock holder
Short tool life due to poor run-out accuracy.
Removing the set-screw after machining is difficult.
Not available for use with through-spindle coolant.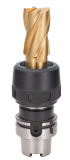 Milling chuck
The nut causes increased interference
The insufficiently short gripping area on the tool shank causes unstable machining.
Less rigidity for side loads due to the thin body thickness.
Easy to operate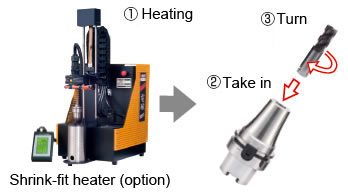 The installation of a tool requires a
shrink-fit heater (option).
For details, contact MST.
Highly efficient processing of difficult-to-machine materials
There is no risk of wasting expensive workpieces, such as those used in the airplane industry, thus helping to meetv the challenge of highly effi cient processing of difficult-to-machine materials. You can use it without any worry for heavy-duty applications involving the removal of large amounts of steel and aluminum.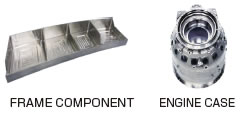 Dimensions/ Drawing Data download
Processing examples
Because there is no worry about a tool coming out, the machining conditions for processing expensive, raw materials for works can be improved without concern.