TEST BAR CHECKMATE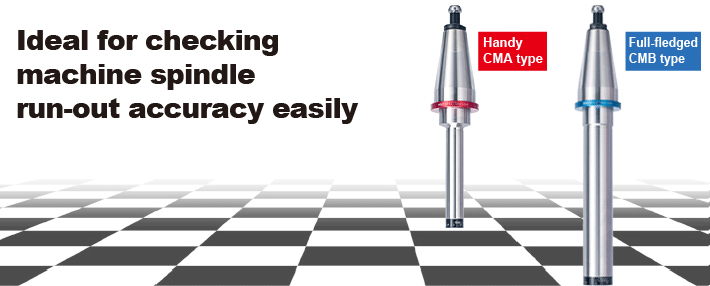 Ideal for easily checking machine spindle run-out accuracy
Managing spindle accuracy will maximize tool holder performance and increase productivity.
The hollow-design body, 20% lighter than conventional ones, makes daily maintenance easy.
Since there is less deflection, it is an ideal measuring tool, especially for horizontal machining centers.
Handy CMA type
Allows you to check the dynamic
accuracy thanks to optional
balance adjustment to
achieve less than
G2.5 at 30,000min-1.
Full-fledged CMB type
Z-axis deflection and
spindle travel accuracy
can be measured.

*Please provide your own test indicator, (lever-type dial indicator with a graduation of 0.001mm).
The actual measurement values are marked on the body.
You can check the spindle condition more precisely using the run-out value and position marked on the body.
・Length
・Diameter
・Runout accuracy
(Actual measurement
values)
・Phase (every 45°)

And drive-key-less design allows you to install the test bar in every phase, making the run-out check easier than ever.

The name ring and scale ring protect it from scratches and dents.
The taper area and straight area do not touch the table surface even if they are placed horizontally.

Every item carefully inspected to assure accuracy!
The inspection sheet comes with the test bar.
(Length, Diameter, Run-out, Roundness, Cylindricity)
Dimensions/ External drawings/ Drawing Data Download