HYPER VERSION


For heavy-duty end-mill machining
For high-speed spindle machining centers Short type
By minimizing the holder length, the machining
efficiency is now double that of conventional holders.
Even for heavy-duty machining with compact machining centers,
it reduces spindle load and prevents fretting corrosion
of the holder shank.
Shortening the tool projection by using a short flute length
cutting tool leads to more efficient machining.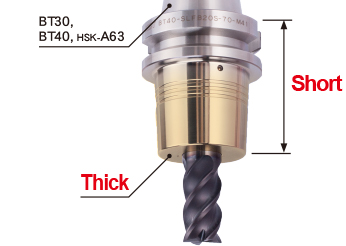 Recommended tools for short type
OSG
WX-PHSS(General purpose)、UP-PHS(General purpose)
DIJET 
DV-OCSAR(For difficult-to-machine materials)、AL-SEESS(For aluminum alloy)
TUNGALOY
SEF4000(For difficult-to-machine materials)、SEE4000-A(For aluminum alloy)
Mitsubishi Materials
C-3SA(For aluminum alloy)、VF-6MHV(For difficult-to-machine materials)
Mitsubishi Hitachi Tool
Engineering
EPSMS-PN(General purpose)、EPPS(For general steel)
For high-torque spindle machining centers Heavy type
By widening the gripping area of the holder, the gripping force
increased 1.4 times higher than conventional holders.
Prevents the cutter from slipping or pulling out.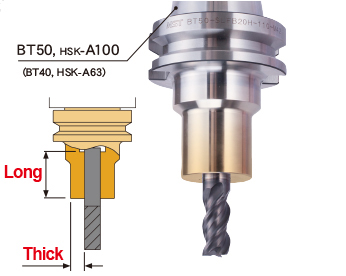 Dimensions/ External drawings/ Drawing Data Download